Now Shipping to 40+ European Countries!
Today we're proud to announce a range of new improvements. Most notably, we can now print and post your handwritten greeting card to an expanded list of European destinations. That means we now ship daily to a massive 46 countries!
We now print and post daily to the following countries:

Australia
New Zealand
United Kingdom
United States
Canada
Denmark
Andorra
Estonia
Latvia
San Marino
Liechtenstein
Austria
Finland
Lithuania
Slovakia
France
Luxembourg
Slovenia
Azores
Spain
Balearic Islands
Germany
Madeira
Sweden
Gibraltar
Malta
Switzerland
Belgium
Greece
Monaco
Bulgaria
Hungary
Iceland
Netherlands
Corsica
Irish Republic
Norway
Croatia
Italy
Poland
Vatican City State
Cyprus
Portugal
Czech Republic
Romania
Cards to Australia and New Zealand are sent from Brisbane, Australia.
Cards to the United Kingdom and Europe are sent from Devon, the United Kingdom.
Cards to the United States and Canada are sent from New Jersey, the United States.
Use your own artwork
Now you can upload your own art to the front of your greeting card. If you're an illustrator, artist or photographer yourself, maybe you want to use your own work? Or maybe you want to remind a friend of a special moment you shared in the past with a photograph of you both? Or maybe you'd like to remind a client of how pleased they looked when they took delivery of the keys to their new home or the car you helped them buy?
New and improved artist profiles
Wouldn't it be great, if you love one card, to be able to find more by the same artist? That's what we think too. So we have added artist profiles that let you discover more about the artist who created your card and shows off all their work, like this one for Bonne Nouvelle, who designs wonderful cards from Nottingham, UK.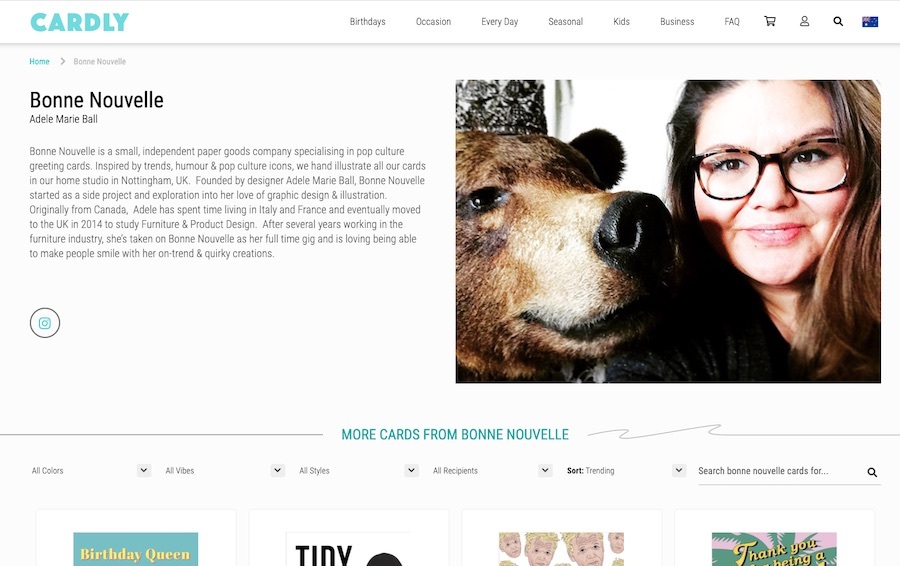 Better delivery timing
If you're trying to finesse your delivery timing, we now give you extra information on what time today or tomorrow it will be sent, and when we expect your postal service to deliver it.
And don't worry, we still shower your browser with confetti when you complete an order!